STADIUM LED ADVERTISING PANEL and SCOREBOARD
Stadium Led Advertising Panels are led imaging systems that surround the field where matches (pillarball, basketball, volleyball, etc.) take place, and that allow advertisement broadcasts. Generally, screen sizes are created by combining panels of 96*96 cm to provide the best image quality. Sizes may vary depending on the size of field/sports hall, the area of live advertisement broadcast and the distance between audience and screen. The screen of advertisement area can be produced in any desired length and without interruption. For those wanting to have a digital advertisement area and to play videos, it is preferred instead of glass wool panel used as a poster because it is digital. With immediate interference, advertisements can be broadcast quite fast and in the desired way.  In today's technology, this system has begun to be used in many fields and indoor sports halls.
Sistem Dizayn - producing in line with the criteria of the FIFA and Turkish Pillarball Federation - does proper positioning in accordance with the advertisement rules of the TFF in order to protect athletes against injuries and prevent future accidents, and produces extra soft mask panels to protect athletes against injuries in the event of an accident and produces its products with top protection silicone; therefore, System Design has been the choice of various clubs since 2004. Sistem Dizayn combining its experience in the sector with glass wool with its production success in Stadium Led Board screen, stands out with its investments in and the time allocated for R&D works.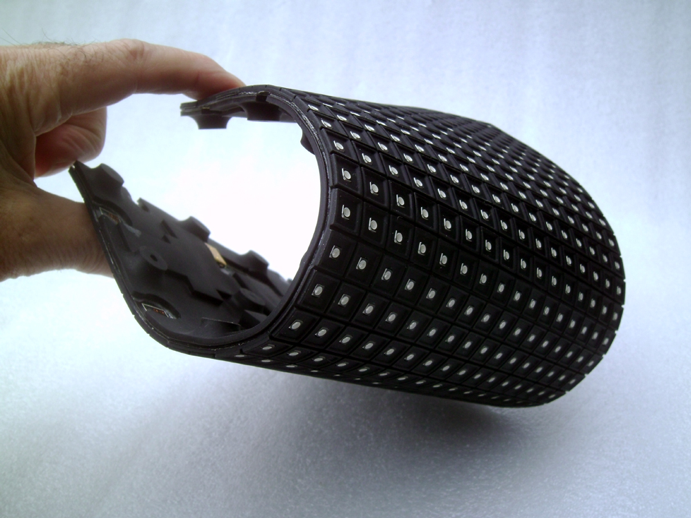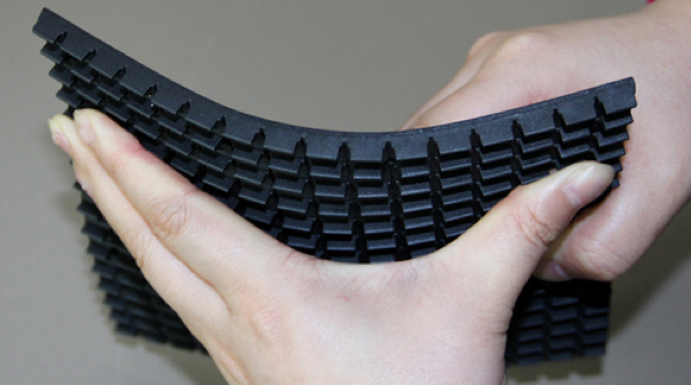 The system and hardware used for the Stadium Led Panels are completely different from that of Led Signage systems and require a different knowledge and expertise. Firstly, the products used in hardware are special products for the TFF standards and fields, and are resistant to weather conditions of -60/+50 degrees.
Panels used in the production of Stadium Led Panels are designed to protect athletes against injuries. Therefore, the material used in the field side and sports hall advertising panels should be covered with soft masks in accordance with the European standards. Soft mask panels protect athletes against injuries in the event of impact. Without soft material, led external protection tabs snap as a result of impact like when a ball hits, and it directly affects the image quality of the product. The special silicone material on the top of the product covers the exposed metal parts to create a stylish image and prevent future accidents. Otherwise, situations like injuries, penalties, bans, sponsor loss as a result of these and financial loss can occur.
Stadium Led Panels should be of different brightness and resolution in outdoor and indoor use. Led Panels used in outdoor areas such as pillarball fields should never lose image quality in the open air and high daylight.  This quality is possible with the brightness called "Nit" .  It is not possible to obtain full efficiency from a product with a brightness level lower than 7000 nit level. Also, the scan rate should be at least ¼. This speed determines the quality of flowing images.  The maximum distance between LEDs should be 10 mm, more distance than this cause images of products to be pixelated and scattered.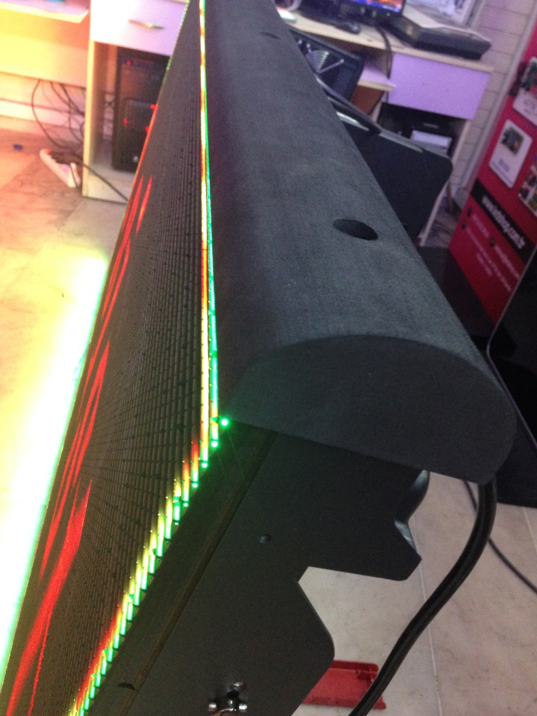 While glass wool system can take up to 20 frequency/number advertisements, you can display as many advertisements as you want in stadium LED Panel systems. When an advertisement needs to be added or removed, you can immediately interfere in the system. Without losing any time and spending extra money on any works related to this, such as printing process, reScrolling or placing the advertisement print, you can ensure that advertisements change under your control in the healthiest and fastest way. The installed system can be controlled by computer. Features of the computer to be used vary depending on the produced LED screens and the cards used, according to the field criteria.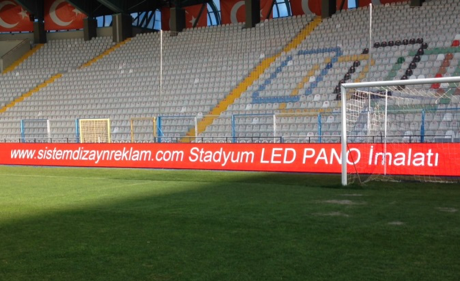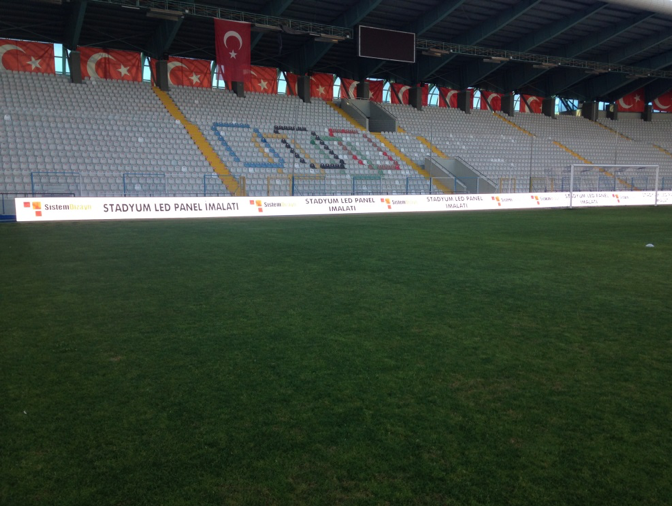 In Stadium LED Panel systems, you can easily play video Scrolling images as well as you showing a fixed visual screen like logo.
You can use the screens as a whole if you like, you can put different advertisements on the desired sections, you can set the duration of advertisements if you wish, and you can broadcast them according to the animation you choose.
Considering the field length, Stadium Led Panel can be positioned at 3 points including backsides of goals and marathon, in numbers such as 195, 200, 240.
In a 195 panel system, they can be positioned to be 50 + 50 pieces at the back of goals and 95 pieces in a marathon; in a
200 panel system, they can be positioned to be 50+50 pieces at the back of goals and 100 pieces in a marathon; in a

240 panel system, they can be positioned to be 60+60 pieces at the back of goals and 120 pieces in a marathon. Examples for positioning are as follows.

Energy line calculations in Stadium Led Panel systems depend on variables such as the amount of load per cabin,the distance of distribution panels from the main panel, the distance of cabins to distribution panels, and the number of cabins. The energy flow between cabins is provided by a 3x2.5 TTR cable.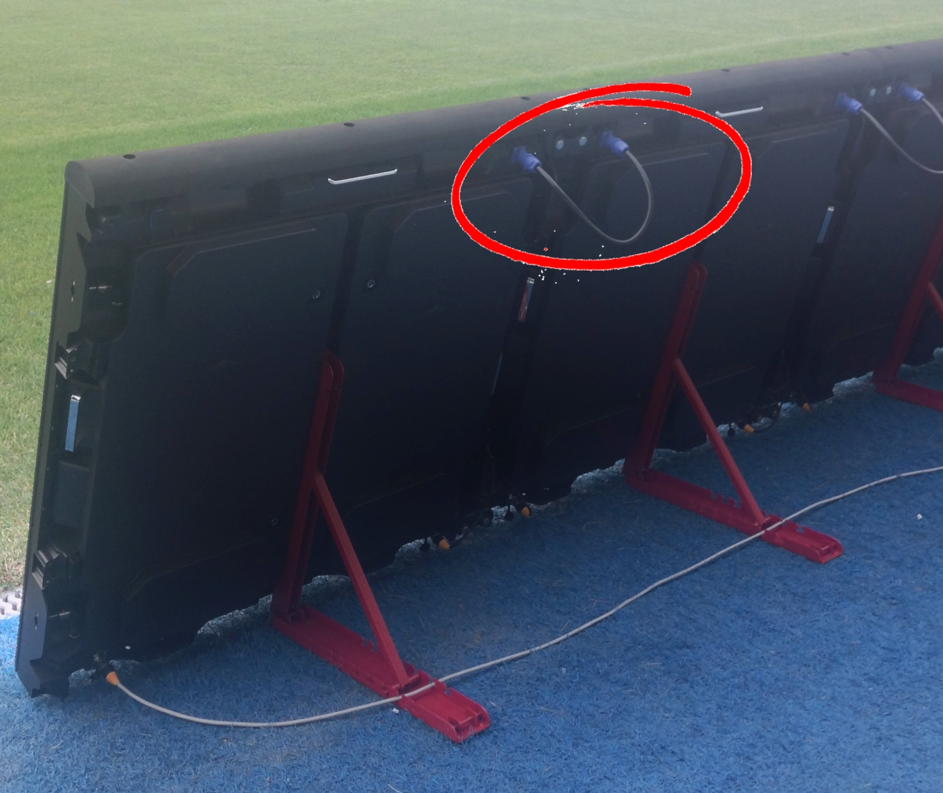 In Stadium Led Panels, data communication is provided by Cat6 or fiber optic cable according to the position of control computer in data line. The control computer should be located at the closest distance to cabins. Advertisements created in predefined sizes and formats are copied to the computer. By a special program with a user-friendly interface, the advertisements are projected onto led panel via a large format screen. 
Via the program, the following detailed information is transferred to the person or persons to be determined by the institution.
Positioning and sizes of advertisements
Changing animations and transitions
Splitting screens
Adding or reScrolling a new advertisement
Setting durations
Advertisement formats
Program backup
Creating a new program
Because Stadium LED Panel systems are digital and online systems, it is possible to interfere in them remotely, so depending on the situation, on-site service or 24/7 remote service support is provided by our company.